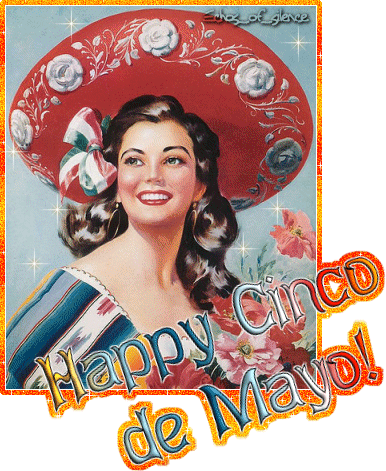 For many revelers, the Fifth of May has come to mean Margaritas and Mexican food, and spring weather. But Cinco de Mayo isn't the celebration of Mexican independence, as many believe, nor is it celebrated throughout Mexico. Festivities are generally confined to the state of Puebla, where, in 1862, Mexican troops defeated an invading French army nearly double their strength. Citizens there still mark the occasion with a military parade honoring the Battle of Puebla, followed by a fiesta filled with music, dancing, and, food.
In the U.S., though, Cinco de Mayo is rapidly becoming a favorite springtime celebration. Whether you blame it on the aggressive advertising of Mexican beer companies or credit Chicano pride and a growing interest in Mexican culture along with the cuisine..... the fact remains that May 5 is the perfect excuse to entertain.
A folk dance is performed in celebration of a special event. The dancers are wearing the region of jalisco dress. Every region represents their own rich cultural heritage through their interpretive dance and costume.
To become an accomplished dancer it takes years of vigorous training, so
children start practicing at a very young age.
Every female dancer will have (colorful) ribbons braided into her hair or wear a flower headpiece for her performance.
The accompaniment for the perfect fiesta...... is a
Mariachi band!
I focused on authentic meals that are as complex and rich as Mexican culture itself. My dishes are not commonly found in a Mexican restaurant, but would be found on every Latinos dinner table. Add drinks and a festive setting, and you've got the makings of a fabulous fiesta.
The tissue flowers are a traditional Mexican decoration.
Made with corn tortillas, enchilada sauce, ground beef, spices and lots of cheese!
Garnish with sour cream and sliced avocado.
We like a little tomato and lettuce with our chilaquiles.
I refer to this dish as... Mexican spaghetti, the pasta is similar to angel hair that's been cut into tiny strands.
The fideo has a tomato sauce base with chicken broth, onions and comino (cumin).
Topped with refried beans, salsa, green onions, cilantro and sour cream.
It is typical to eat with tortillas... for scooping
(in place of a spoon or fork)
"Conchas"
are a lightly sweet bread that has a sugar-shell pattern on top.
An "Empanada" is a turnover with a pumpkin , jam, or cream filling.
"Besos" consists of two round domes with a "kiss" of strawberry jam and coconut,
(my favorite!!)
No fiesta would be complete without a Piñata!
Created from a swatch of chile pepper fabric and gathered crepe paper.
Hot Tamales, chocolate gold coins and confetti.